National Open Water Championships 2019 - REPORT
On Monday 5th August 2019 Winsford Swim Team had 5 swimmers travel to the new venue of Thrybergh Country Park, near Rotherham (Due to the usual venue of Rother Valley having Blue Algae), to race in the National Open Water Championships. Over the day we had Henry and Alissa competing in the 5k, Theo Oliver 3k and Lewis Turner and Ross Hanley taking on the 2k distance. 
In previous years we have had a great number of swimmers taking to the Open Water and this year was the same with all our swimmers very determined to challenge the best distance swimmers in the United Kingdom. 
First to race was Henry Oliver in the boys 17-18 years 5k race. Henry Oliver has been a consistent qualifier in the open water nationals for every single year he has been eligible to compete, so by my

 
reckoning
 he has been racing for the past 5 years. So needless to say he is an experienced swimmer at this level, Henry as always gave his all to his swim, swimming consistently over the 5 laps of the course. After completing the distance Henry touched the pad in 14th position in the 17-18 years category and a top 7 position if we just include the 17 year old swimmers,

 
Henry's
 time was 00:59:52, his first time under the hour mark and over 5 minutes faster than his swim in Salford.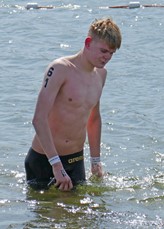 Next to race was Alissa Blackshaw in the girls 17-18 years 5k race, like Henry, Alissa is an experienced professional in the open water and she was determined to put on her best show, especially with the great news of no wet suits for the race, Alissa was in her element. After completing 5 laps of the 1k course Alissa touched the pad in 16th position which is a great achievement because Alissa will be in this same age group next year. Alissa's swim was achieved in a time of 01:07:44, which was 11 minutes faster than her swim at Salford, great improvements.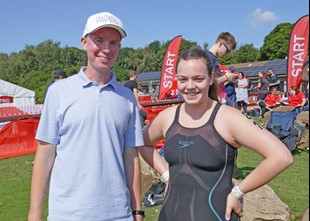 Third to race was Theo Oliver in the boys 14 years 3k event, Theo is following in Henry's footsteps by enjoying his distance swimming and was keen to do his best. Theo has competed at a number of National Open Water events but this year was his first time competing over the longer 3k distance. Theo had a solid swim, with a sprint finish to just touch his opponent out who he was battling one v one for the whole distance. Theo after completing 3 laps of the course came home in 23rd, achieving a time of 00:41:31 which was 16 seconds faster than his swim at Salford.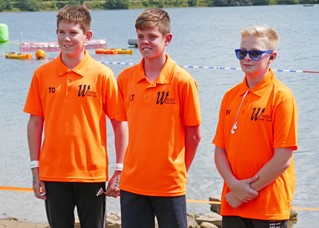 The final two to swim were Ross Hanley and Lewis Turner, both were racing in the 13 years 2k event which took place later on in the afternoon. Both Lewis and Ross have been training extremely hard leading into the event and this showed in both their performances. Lewis was the first of our two swimmers to finish touching the pad in 12th position with a time of 00:26:21 which was 1 minute 16 seconds faster than his NW Regional swim. Ross then touched the pad shortly after achieving 19th position with a time of 00:27:50 which was over 2 minutes faster than his Salford swim. Two excellent swims from both Lewis and Ross, it is great to see two of our younger swimmers racing in the open water format and swimming without fear and getting stuck into the challenge. 
Winsford Swim Team have been a big player on the open water scene for many years and I am sure this will continue into the future, our swimmers love to push forwards, take on new challenges and approach them without fear, these characteristics is what I have always admired by the swimmers who have represented Winsford both past and present and I am sure into the future as well.
Results at Thrybergh County Park
Mens 5k 17-18 Years - 26 Competitors
Henry Oliver 14th, 00:59:52
Ladies 5k 17-18 Years - 24

 
Competitors
Alissa Blackshaw 16th, 01:07:44
Boys 3k 14 Years - 30 Competitors
Theo Oliver 23rd, 00:41:31
Boys 2k 13 Years - 26 Competitors
Lewis Turner 12th, 00:26:21
Ross Hanley 19th, 00:27:50
Well Done again to all our Open Water National Swimmers, some great racing had by all 5 of our representatives, I am sure more of our swimmers will want to take on the challenge over the open water format next year and hopefully qualify for the Open Water National Championships 2020.
If it doesn't challenge you, it doesn't change you.