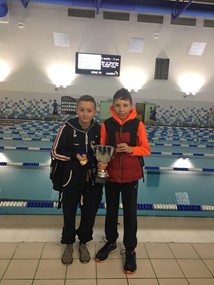 Orford Jubilee Swimming Centre in Warrington was the venue in which some of Winsford's finest talents descended to conquer all at the Percy Mason Gala! The bright orange army consisted of a dangerous mixture of junior and senior swimmers who all represented Winsford with great pride and determination, swimming with excellent skills and race technique. The competition was tough with some great swimmers in all ages. However Winsford raced their hearts out to gain a mass haul of medals and more importantly a roster of new personal bests.
Swimmers representing Winsford:
Boys: Oliver Powell, Will Powell, Will Line, Tom Kud, Tom Carss, Alex Clarke, Harvey Zwijnen, Finlay Parkinson, Christian Lowndes, Cameron Morley, Freddie Cushen and James Adamson.
Girls: Eliza Chesworth, Megan Rickels, Eve Spears, Alissa Clarke, Harriet Carss, Suzannah Freeman, Ellie Davies, Sophie George, Freya Johnston, Jessica Bradley, Abigail George, Charlotte Thomson, Alissa Blackshaw, Katie Woodbridge, Izzy Burton, Nina Wilson, Domi Dean, Kiera Booth, Lana Booth, Ella Booth and Annabel Kud.
Our Results:
139 Personal Bests
Gold- 22
Sliver- 29
Bronze- 13
Top 6- 57
35 Happy smiling faces
The team's efforts resulted in Winsford taking home the Top Visiting Club Award! A fantastic achievement against some great competition. It was a pleasure to be on poolside with the swimmers and an honour to be their coach! I would like to thank the brilliant team managers; Sarah Carss and Louise Lowndes for helping me out. A huge thank you to the parents for your continued love and support! Your children's successes would not be possible without the time and love that you give, you should all be extremely proud! Finally a huge thank you to all the swimmers for being fantastic and swimming so well!
"The strongest people aren't always the people who win, but the people who don't give up when they lose".
Alex