Swim England Summer Nationals 2018 - REPORT
Now that the British and Open Water Nationals are complete it was the turn of the English National Swimmers, this year we had 8 swimmers competing in Sheffield all of which were looking to swim fast, make finals and achieve medals.

Day 1
On Day 1 we had three swimmers from our club in action. First up was Jay Cushen (15) in the boys 100 Breastroke. Jay swam very well showing good technique throughout the race but unfortunately just missing out on the final, finishing in 16th place. Jay will now look forward to Day 3 where he is back in action for the 100 and 800 Free.
Next to race was Marcus Cook (17) who was racing in the 50m Free, Marcus has only just recently joined us from another club so needless to say he wanted to perform to his best. Marcus was very determined to swim well, preparing meticulously before his race and this preparation showed in his race. Marcus swam superbly well touching in on a new PB time 24.91 but unfortunately just missing the final by 0.08 seconds, a very fine margin but a fantastic new PB and a great 12th place all the same.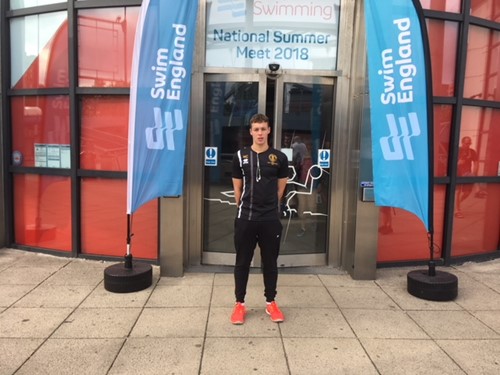 The final swimmer to race was Ethan Wright (16) in the boys 400 IM, Ethan has had outstanding preparation leading into the Nationals being brilliantly consistent in attendance and training performance. Ethan swam the heat fantastically well touching in a time of 4:54.54 which was a new PB by over 5 seconds and more importantly a place in the final.
In the Final Ethan was ranked 10th but we were wanting to improve on that and he certainly delivered, Ethan after swimming 2 lengths, 100m on each stroke, came in on a time of 4:51.52 which was another PB and good enough for 7th place. A fantastic achievement for Ethan in his first ever National Championships.
Day 2
On Day 2 we just had Ethan Wright competing, he was racing in the longest event in the pool, the 1500 Free. After his tremendous effort yesterday in the 400IM he was again looking to swim very fast and try and reach a top 10 position. I am not going to go into great detail about his race but what I will say is that Ethan dived in and had the absolute race of his life, getting stronger and stronger as his race developed. After 30 lengths of a LC pool Ethan came in on 16:49.37 which was a 28 second PB and more importantly this superb swim gained him the BRONZE medal and a place on the podium. This is Ethan's very first National medal, well done and thoroughly deserved.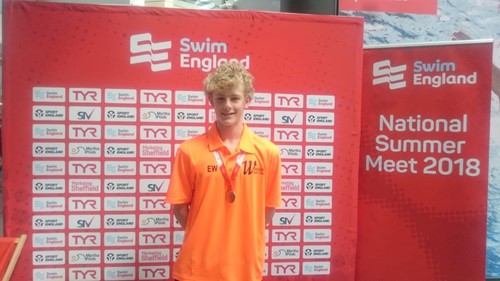 Day 3
On the third day of action we had four swimmers racing. First up was Jay Cushen in the boys 100 Free. Jay had another good swim, racing on PB but unfortunately missing out on the final by the most narrowest of margins, 0.01 seconds. However this was a good warm up to his favoured distance free event later in the morning.
Second to go off the blocks was Alissa Blackshaw (16) in the girls 400 Free. For Alissa this was her first taste of National Pool Qualification, and she was determined to swim well. Alissa kept a good even pace but unfortunately we were a little bit off PB and just missing out on the final, finishing in 14th position. Alissa however can be very pleased with her season, knocking off huge chunks of time in her Free and backstroke events and this is due to an incredible commitment to her swimming training. I know she will be looking for Qualification again next season and swimming even faster.
Third to go was Ethan Jones (16) in the sprint distance of 50 Backstroke. Ethan had a superb swim in the heat, achieving a time of 28.73 which was a new PB and a place in the final qualifying joint 8th. A super morning swim from Ethan and a place in his first National Final, great effort.
The final race of the morning was the boys 800 Free where both Jay and Ethan Wright were competing in. Both lads are excellent distance freestylers so they were both looking to swim very fast.
Ethan Wright after his outstanding 1500 free a day earlier had another outstanding race in the 800. Ethan came home in a time of 8:51.16 which was a 14 second PB and good enough for 6th place in the 16 years age group, only 2 seconds shy of a Bronze medal. A brilliant swim all the same, particularly after only racing the 1500 free 24 hours earlier.
Jay Cushen was up next in the 800 Free and he was out to really make a statement and he didn't disappoint. Jay had an incredible swim, racing very hard for 16 laps of the LC pool and touching the pad in a time of 8:48.73 and good enough the BRONZE medal and only 0.6 of a second from winning Gold, so so close! Jays time was a new PB by 12 seconds, a fantastic effort, great to see Jay on the podium! Well in fact Jay didn't get on the podium, he missed his presentation but who cares he still got the medal!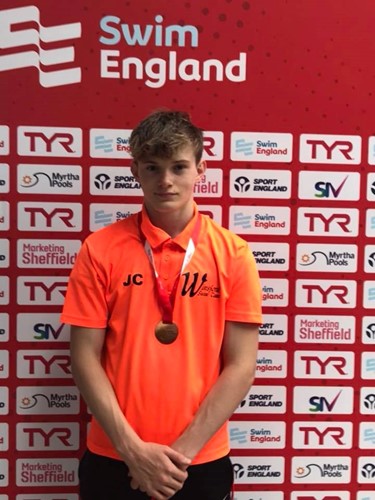 In the evening Ethan Jones was going in the boys 16 years 50 Backstroke, Ethan was very determined and as always he was necking jelly before his race! Ethan swam his absolute heart out in the final, coming home in 9th place in another new PB time of 28.51 and only 0.26 from Bronze, literally nothing between all 10 swimmers. A wonderful final from Ethan Jones and I know he will only get faster in the future and reach new heights. Well Done.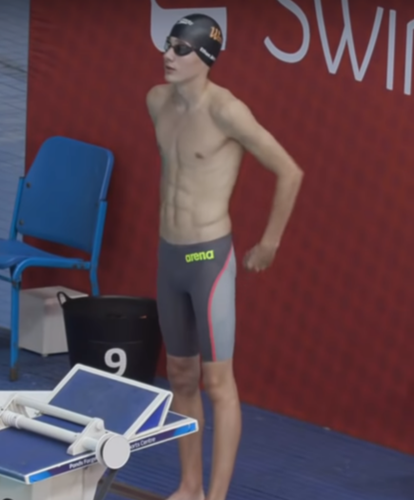 A great Day 3 for Winsford Swim Team and our swimmers.
Day 4
Day 4 this was our busiest day with 6 of our swimmers in action at Ponds Forge International Centre and needless to say all our swimmers were looking to swim very fast and attain the very important Finals qualification so they could return later in the evening to battle it out for a podium spot.
First up was the 200 Fly where we had 4 swimmers racing, Izzy Kay (14) who is at her first ever Nationals was going in the girls 14 years age group. Izzy after a very strong start, middle and end to her 200 Fly came in on a new PB time of 2:28.97, which was good enough for a place in the final ranking 6th. This was an outstanding swim from Izzy, looking strong throughout the race.
Next to race were the three lads, Jay Cushen went first and after going out very strong came home in a time of 2:17.27 which was a seasons best time and again making the final in 10th place. In the next heat for Winsford was Ethan Wright (16) who had another superb swim, pacing the race brilliantly well and touching the pad in 2:13.74 which was another new PB and by over 3 seconds. His time was good enough to go into the final ranked 2nd. Our final swimmer for the 200 Fly was Finn Armitt, Finn like Jay and Ethan had a tremendous swim, pacing the race so smooth and controlled, coming home in a time of 2:13.20 which ranked him 1st for the final. All 4 of our 200 Fly Swimmers made the finals, a wonderful achievement for our swimmers and club.
After the 200 Fly event next up to race was Will Murray (17) in the 50m Breastroke. Will was keen to make a mark in his first race of the Nationals. Murray had an incredible swim, powering his way to a time of 30.38 which was nearly a one second PB which is a huge amount over the Sprint distance of 50m. Murray reached the final ranked 2nd but it is extremely tight going into the final with literally hundredths of a second between the top swimmers.
The final race of the day 4 heats was Ethan Jones in the boys 16 years 100 Backstroke. Ethan had another fantastic swim touching in on 1:02.35 which was another new PB, unfortunately we just missed the final by an extremely small margin, putting us as first reserve. However this does not take away anything from Ethan's performance at this year's British and English Nationals where he has achieved a 100% PB rate and swum his absolute best both in the relays and all his individual races, well done.
Day 4 Finals begun with the 200 Fly event and Izzy Kay in the girls 14 years age group. Izzy went into the final ranked 6th but she was determined to win and she did just that! Izzy literally had the race of her life, starting off fast and finishing fast just touching out the girl from Birmingham to claim the GOLD medal and claim the title of English National Champion. Izzy's time was 2:24.02 a new PB from the PB she achieved in the heat. Izzys time now ranks her extremely high in Britain, what an unbelievable swim.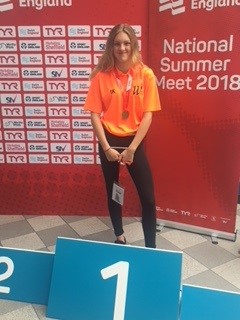 The next finalist was Jay Cushen in the boys 15 years 200 Fly, Jay had an excellent swim finishing in 8th place, the reason why I say excellent is because he gave his all to the race and whatever the outcome if you try your best that is all anyone can ask. Jay was over 2 seconds faster than his heat swim, a great swim and a great way to finish his National Championships.
In the next final we had both Ethan Wright and Finn Armitt in the boys 16 years 200 Butterfly. We knew it would be close and boy oh boy it certainly was, with the lead changing throughout the race with 4 lads battling out the last 25m neck and neck. After 4 gruelling lengths Ethan Wright claimed the SILVER and Finn Armitt the BRONZE medal. Both swimmers raced their guts, heart and spleen out and as mentioned earlier that is all we can ask for. It was great to see two Winsford swimmers battling it out in the same final. Well Done, and remember Finn keep smiling on those photos!
The final, final of the night was Will Murray in the boys 17 years 50 Breastroke. With all 50s the race is going to be tight, very tight and this final was no different. After 25m it was literally all 10 swimmers in a line and coming into the final 10m it was anyones race. Will had a great swim, touching the pad in 4th, just whiskers away from a medal. It was a shame not to win a medal but Will should be very proud in his performance and his attitude to his Nationals, he has come along way and I am sure there is more to come in the future.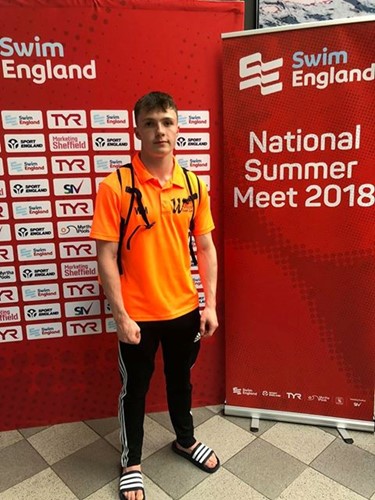 Day 5 - Final Day Thank Goodness!!
This was the very last day of the National Championships, after 12 days of competition which included the British, Open Water & English Nationals we were looking to finish the marathon of competition on a real high. 
First to go off the blocks was Izzy Kay in the 50 Butterfly, unfortunately Izzy forgot to sprint and so didn't quite emulate her exceptional swim in the 200 Butterfly a day earlier! Izzy came in outside of the top 10 and missing the final, however nothing can be taken away from what was achieved yesterday, which was remarkable, showing staggering improvement in her Fly and now ranked one of the top swimmers in the 200 Fly event in her age in Britain.
Next to swim was Marcus Cook in the boys 17 years 400 Freestyle. Marcus started the race off well and continued throughout the 8 laps at a very consistent pace, executing very good underwater throughout. Marcus touched in on PB pace but unfortunately just outside of the top 10, however Marcus can be very proud of what he has achieved at these National Championships. Marcus has only been with us for a short time and has already shown great enthusiasm, dedication and a hard working mentality. I am sure he will have a long prosperous future with Winsford Swim Team.
Now that the Swim England Nationals are complete Winsford Swim Team achieved: 
This has been the most successful England Summer Championships we have ever had, more medals, more finalists and more swimmers achieving medals (4 Swimmers: Izzy Kay, Ethan Wright, Jay Cushen & Finn Armitt). Congratulations to all our swimmers who represented Winsford Swim Team: Izzy Kay, Ethan Wright, Jay Cushen, Finn Armitt, Will Murray, Ethan Jones, Alissa Blackshaw, Marcus Cook. It has been a roller coaster!
Medal and Top 10 Placings/Finalists - English Nationals
Izzy Kay (14) GOLD 200 Butterfly.
Ethan Wright (16) SILVER 200 Butterfly, BRONZE 1500 Freestyle, 6th 800 Freestyle, 7th 400 IM.
Jay Cushen (15) BRONZE 800 Freestyle, 8th 200 Butterfly.
Finn Armitt (16) BRONZE 200 Butterfly.
Will Murray (17) 4th 50 Breastroke.
Ethan Jones (16) 9th 50 Backstroke
Well Done to all our National Swimmers who have competed at the British, English, Welsh or Open Water National Championships. The results overall have been fantastic with so many swimmers performing to an exceptionally high standard. It really does make the whole club very proud to see everyone representing Winsford and racing with such desire, win, lose or draw everyone put their whole hearts into their races.
We now have a good break and we will all come next season with even more fire in our bellies and even more determination to succeed and make the absolute most of the talent we have at our club. We will continue to strive every single day to improve and to work together as a team to help our swimmers reach their goals and dreams.
I hope everyone has a lovely holiday/break and if I don't see you in August, I will look forward to welcoming each and every swimmer back in September.
Anything is possible for those who believe and work hard.
Thanks
Dan