Help with Competition Swimwear
Choosing competition swimwear
Why buy competition swimwear and why is it different from a training swimwear?
Competition swimwear is compression fit swimwear which allows for better oxygen flow to the muscles and holds the body in a more streamlined position in the water, whilst repelling water and increasing flexibility. It is not a fashion accessory, its purpose is to maximise the competitive swimmer's performance.
It reduces drag and races faster; studies suggest that it can reduce the racing times of competitive swimmers by 1.9% to 2.2%.
It is also extremely powerful in the mind-set of a swimmer as it gives them an inner confidence to know that they are wearing something that gives them an advantage when racing, and this should not be underestimated.
Racing swimwear is expensive, and ranges in price from approximately £99 to over £300; however, the right suit really can have a positive impact on your swimmer's performance.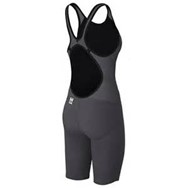 Which competition swimwear?
This is down to body shape, personal preference and how much money you want to spend. If the suit is being used for competition, choose one that is FINA approved – this is shown by a white symbol on the outer part of the suit.

There are a number of different manufacturers, but I would suggest sticking to one of the more established brands, such as Speedo, Arena, Jaked, TYR, Maru, Diana etc.
It is unlikely that you will be able to buy these on the high street. There are occasional 'pop up' swimming shops at galas, or they can be purchased online at sites such as:-
http://www.proswimwear.co.uk
http://www.swimshop.co.uk
http://www.allensswimwear.co.uk
http://www.nessswimwear.co.uk
http://www.wiggle.co.uk
http://www.simplyswim.com
Please don't forget to use http://www.easyfundraising.org.uk when buying over the internet (if the site supports it), as it raises funds for our club.
Second hand swimwear
It's down to personal choice, but I probably wouldn't recommend buying second hand competition swimwear as it has a limited lifespan (approximately 10 to 12 galas) before starting to lose compression, and therefore may not offer good value, nor be as effective when racing.
How to get the right size/right suit
Before purchasing try to understand the manufacturer's sizing as they can be different to each other. If this isn't clear on the website you are ordering from, then go to the manufacturer's website and look for their size guide (ie Speedo, Arena etc) check where the measurements are taken from as some of these are body loops. Measure the wearer carefully – competition swimwear is compression fit, and should fit very tightly. If the wrong size is ordered it could increase the chance of water retention in the suit during a race. Please note: often very small sizes are available in adult competition swimwear as opposed to buying junior sizes.

Trying the swimwear on at home is easier - if it fits correctly it will be difficult to get on and off, and this may take a while. I would recommend choosing a selection, and look to buy from somewhere that accepts returns, and send back the unworn ones that are less suitable.
Caring for your swimwear
Try to minimise the time spent sitting around in the swimwear and ask your swimmer not to warm up in it (unless they are needed for the first race and do not have time to change), as this will limit the lifespan of the suit and the compression in the fabric - suits can be quite fragile, and can be snagged or easily damaged, and are expensive to replace. If you are wanting to dry suits whilst at galas, try to do this naturally, and don't place them under hand dryers on radiators etc. as the heat will damage the fabric.
Get into the habit of checking that your swimmer has their swimwear with them before you leave a gala to avoid family upsets at a later point. :-) !
WARNING - Competition swimwear is not suitable for machine washing!
Encourage your swimmer to rinse out under the shower when they finish swimming, then once you are home rinse the suit again in cold water and allow to dry naturally, placed flat, and away from direct heat and sunlight.
We usually place a clean towel on a tiled floor (others place on a clean towel in the bottom of a dry bath), and then lay the swimwear flat on top of this and leave to dry.
Do not use soaps or detergents on your suit.
Hints and tips
DO:
Rinse your swimwear after swimming – wear in the shower when you get out (but don't use any soaps!)
Rinse again by hand in cold water after you get home from the gala.
Place to dry flat, and naturally – this could be on a clean towel on a tiled floor, or placed on a clean towel into the bottom of a dry bath.
If you've been swimming in open water, remove any sand or dirt as soon as possible.
DON'T:
Don't leave your swimwear rolled up in the towel after use – this allows the chlorine to have more time in the fabric and also allows bacteria to breed
Don't wash your swimwear in a washing machine. Washing machines and detergents will damage your race suit even if done just the once.
Do not use an iron, or leave in direct heat/sunlight as the high temperatures can cause your swimsuit to disintegrate.
Never use chlorine bleach even if your costume is chlorine resistant, as chlorine resistant does not mean it is totally chlorine proof.
 Thanks to Andrea Blackshaw for providing this article.