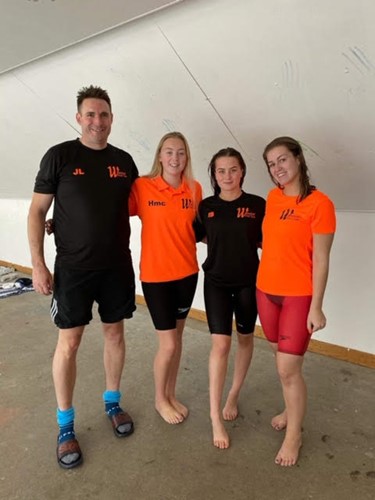 Available Training Sessions
We are hopeful Masters training will be able to resume from 17th May 2021 - subject to Government restrictions being lifted then.
Squad
Monday
Tuesday
Wednesday
Thursday
Friday
Saturday
Sunday
Masters
5am-6.20am
5am-6.20am
5am-6.20am
 
 

5am-6.20am

 
 
 
 
 
 
 
 
 
Mondays are the dedicated masters session. Tues, Wed and Friday are subject to availability.
Please note you are not able to leave a session early (except in the case of illness) 
Lane Allocation - to see which lane you are in for a session - please click
here
 - you need to know this before you arrive at each session!
Fees 
£28 per month including Cat 1 membership - Cat 2 for competing is a separate annual fee of £34.75 - please email asaregwasc@gmail.com about this. 
Please see the Fees and Membership page (at the bottom) to join the club. 
Fees cancelled from Jan 2021 during Tier 4 shutdown / Lockdown 3 
Fees are cancelled during the shutdown period.
Masters Swimming at Winsford ASC​ without training.
A Masters swimmer can be affiliated to Winsford ASC without training with a the squad. This is an annual Cat 2 Swimmer Fee of £34.75 - please email asaregwasc@gmail.com about this.
Up Coming Masters Galas