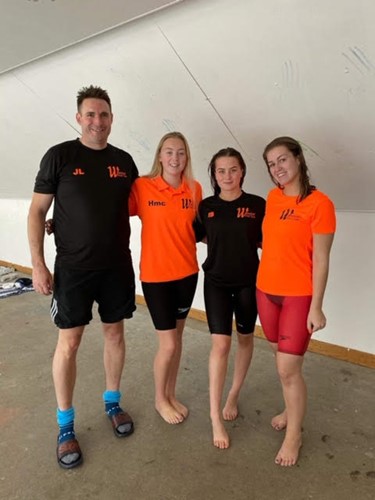 Masters is for slightly older swimmers who wish to train either for fitness or to compete at Masters Level competitions......... (This is a work in progress - sorry!)
Available Training Sessions
Squad
Monday
Tuesday
Wednesday
Thursday
Friday
Saturday
Sunday
Masters
5am-6.30am*
5am-6.30am*
5am-6.30am*
 
 
 
 
 
 
 
 
 
 
 
 * Please note: Doors are locked from 5am to 6.30am when the centre opens to the public  - everyone is either in or out. The centre staff are not allowed to open the doors before that time.
FEES
£28 per month + an annual one off payment for Swim England Membership (required for insurance purposes):
Category 1 swimmer = £16.20 (Training but not competing)
Category 2 swimmer = £33.75 (Training and competing)
It is also possible to compete as a Masters swimmer affiliated to Winsford ASC without training with the squad. This is an annual Cat 2 Swimmer Fee of £33.75 - please speak to Helen Jones about this separately.
ONLINE MEMBERSHIP FORM AND STANDING ORDER FORM
Online membership application form - we are aware this asks for Parent or Guardian information - please just put a contact in there - it is a form designed for our younger members that we are adapting.
Standing Order Form (Please download, print, complete and hand to the coach or Barry Keeling.)
Bank Details for Membership Account:
Winsford ASC
Nat West Bank
Bull Ring High Street
Northwich
Cheshire
CW9 5BN
Account No:       01043862
Sort Code:           60-15-29
The annual one off payment can also be paid to this account using the ref SEINITIALSURNAME eg SEJBLOGGS
MEMBERSHIP ENQUIRIES
If you have any questions regarding what fee you should be paying - please contact our treasurer: Helen Jones: membershipwasc@gmail.com
CANCELLATION OF MEMBERSHIP
To cancel your membership please email "Cancel Membership" to clubsecwasc@gmail.com.
UP COMING MASTERS GALAS
SENW Masters Championships  - 22nd February 2020 - Self Entry Gala - Closing Date 17th February 2020 -  for full details, programme and conditions please click here
Staffs Masters 2020 - 7th March 2020 - Self Entry Gala - Closing date 25th Feb 2020 - for full details, programme and conditions please click here