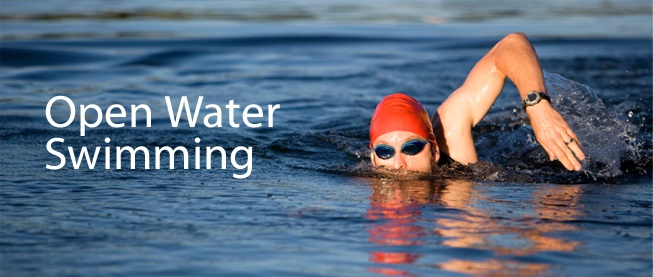 The open water summer season restarts at Boundary Park on Thursday 2nd May 2019 and runs to 14th Spetember.
This year any swimmers 12 and over (at 31.12.19) can enter the Open Water National Championships if they are placed first, second or third at the Regional Championships and there are some direct qualifications to the Open Water National Championships based on LC 1500m times too – so all the more reason to give it a go.
The season generally starts outdoors in early May and finishes around late September. There are a number of different locations up and down the country, but a good starter location, and one that is local to us, is Boundary Park (Allostock, near Holmes Chapel) which is run by USwim.  If you take a look at their website; http://www.uswimopenwater.com  you will find lots of very useful information.
Boundary Park is a lovely location, especially on a warm summer evening. Some of the members of the Winsford swim team have swum here previously, and will be able to advise you on the good points (such as the shallow water, and sandy bottom to the lake). There are two courses, 400m and 750m, and you can go around as many times as you like.  The course is swum in one direction (clock-wise), and is marked by buoys, which you will need to navigate as you go around. If you are looking to compete at the regionals it is important to practice - there is an art to swimming in a straight line without lane ropes – a technique known as 'sighting' is used, and it is not always as easy as you think. For safety it is important to acclimatise yourself slowly to the temperature of the water before setting off swimming – the staff at Uswim are very helpful and extremely knowledgeable, and if you are unsure of anything they will always try to help.
USwim offer different levels of membership – you can opt for a pay as you swim session (complete disclaimer at venue), or you can sign up for a membership for the season – if you go online it is very straight forward – however I don't get a phone signal when I am there, so would suggest you do this in advance and print it out.  The first swim of the season is always very busy with people signing up, so be prepared for a possible wait.
All swimmers will be given a wristband before they can swim, so please ask your child to wait for this before they get in the water; they also need to bring a brightly coloured hat (compulsory) so they can be seen in the water.  This is for safety reasons.  There is always a safety boat in the water with the swimmers, and anyone who gets in difficulty in the water should roll onto their back and raise their arm, then wait for help from the safety team.
The location of Boundary Park is on the Holmes Chapel to Knutsford road (A50), and the postcode for your sat nav is CW4 8HT.
The sessions they offer are on a Thursday evening (5.30pm to 8pm), and also on a Sunday (12pm to 3pm).
In a nutshell you just turn up and you can go in the water at any time, so if you only stay for 10 mins and decide it's not for you that is fine!  (Dan please don't shout!!).
There is free parking, but it can be a little hit and miss – and sometimes you may end up parked on the road outside the venue depending on what time you can get there.
There are limited changing facilities, and they can get a little busy at times, so it is quite normal for people to get changed outdoors, like you would on a beach.
For those of you that don't know, Open water swimming in basic terms is swimming outdoors, and it can be likened to marmite – swimmers seem to love it or hate it!
It can take place in a number of different locations such as lakes, lidos, the sea, rivers etc, and it is enjoyed by people of all ages, and all abilities – most enjoying the freedom and adventure that it offers.
The conditions when swimming outdoors can vary, including changes in temperature, wind direction and choppiness of the water, and this all adds to the challenge.  If the water temperature is a problem then wearing a wetsuit helps!  It is said that wearing a wetsuit can make outdoor swimming a little easier than normal, due to added buoyancy.
Swimming wetsuits are different from a normal wetsuit, but they can (usually) be hired for a small fee.  Wetsuits can rub, in particular around the neck area, to prevent this a bit of Vaseline.
Alternatively you can swim without one, but this is only for the brave/stupid!!  I would encourage everyone to consider wearing a wetsuit for the first few swims in the season – these are worn over your normal training costume.
What will I need to take?
A drink – this can be left near the start/exit.
Large towel - helps you protect your modesty if you get changed outdoors.
Old training costume - it may get dirty and sandy.
Goggles.
Bright coloured swim hat – you will not be allowed to swim without one, and dark colours are a 'no go' due to safety, they do sell them if you forget.
A pair of old trainers/flip flops for getting to and from the water.
Warm clothes (with a hood) to change into when you finish swimming.
Drink of coke for after swimming - to help neutralise harmful bacteria in case you drink lake water. 
A sense of adventure, if you haven't tried open water swimming before it can be an amazing experience.  I believe all pool swimmers should try it at least once – you may love it!
Many thanks to Andrea Blackshaw for writing this article.